THIS INTERVIEW HAS BEEN TRANSLATED AND ADAPTED TO THIS WEBSITE DESIGN, FIND THE ORIGINAL HERE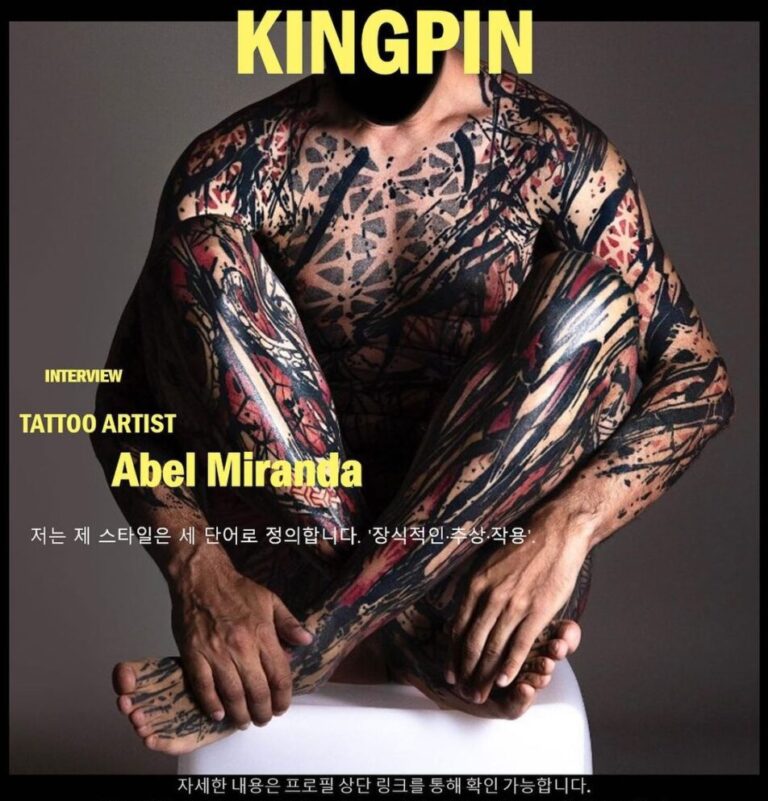 "PLEASE EXPLAIN THE GENRE YOU ARE CURRENTLY WORKING ON AND TELL ME WHAT IS YOUR OWN DIFFERENCE."
I would define my style in 3 words:
Ornamental Abstr-Action
It took me years to define, the words to use but the shapes and colors that could define my vision of what ink can do for a body and the voice within it. – not easy.
My style has gone through a constant evolution from solid line designs, through sacred geometry purely made by dotwork – no lines at all and strict math perfection – to the last 5 years' fusion with the addition of organic shapes based on my own action paintings – no lines, no geometry: only painting like shapes, strokes, and drops.
So, after a while – and after a lot of hard work to make merge them into something new and powerful while delicate and elegant-, all these styles expressed an essential part of what I appreciate in tattoos: 
Visual Strength from the bold line of my first tattoos, 
Ornamental point of view as a heritage of my years working with geometrical compositions, perfection to the limit from my dotwork tattoos, and the magical and fluid dynamism of abstract painting that creates the illusion of new shapes and spaces over the skin.
Only the mix of all of them gave my style, and my purpose is to ornament bodies by generating a dynamic balance of perfection and chaos.
All that has enriched my tattoo artwork at every step and I still work every day on adding new textures, rhythms, and details to my compositions to keep them alive and unique.
"WHAT DOES TATTOO MEAN TO YOU?"
Well, saying that it means everything wouldn't be enough…it has given shape to my life and made me the best version of myself, it is who I am.
"WHAT MADE YOU START TATTOOING? AND I'M CURIOUS ABOUT YOUR MIND AND THOUGHTS ON THE JOB YOU'VE FELT WHILE WORKING AS AN ARTIST."
I like to say that I didn't find the tattoo career, it found me instead and followed me until I chose it as the only one in my life: At that moment, tattooing meant a single small tattoo a week so, at a first sight, it wasn't a convincing job at all.
…I spent many years learning from different artists, and reading tons of books about tattoos, which by the way, was very difficult by then! 
When I started, there were no magazines about tattoos here in Spain (and of course nothing at all on the internet, we are talking about 20 years ago…), I had to travel a lot in order to find and buy books about tattoos, about the tribal culture in Asia and about the first iconic artists of this art…
" IN KOREA, THE JOB OF TATTOO ARTIST IS NOT RECEIVING MUCH ATTENTION COMPARED TO ARTISTS OF VARIOUS GENRES. I WONDER HOW POPULAR TATTOO ARTISTS ARE ABROAD."
Honestly, here in Europe, they are probably one of the most popular ones next to musicians. I wouldn't say like rock and roll stars of course, but it became a very "cool" thing in the last 15 years and into a  highly valued and recognized art in the last 5: it is not some rebel mark for youngsters anymore.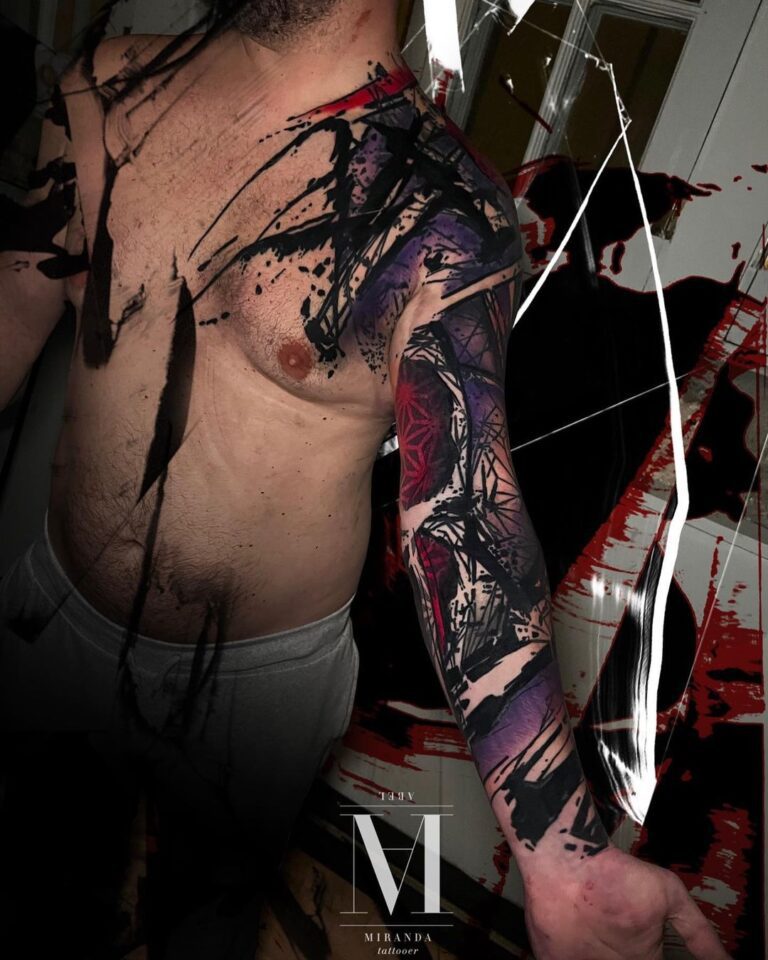 "VARIOUS CONVENTION EVENTS ARE EXPECTED TO RETURN FROM THIS YEAR. IS THERE A CONVENTION THAT THE ARTIST IS PREPARING FOR?"
Not really… I think I might have done too many conventions in the last years and I'm kind of tired of the high physical and mental demand that a convention requires…going to a convention is a very useful investment when you are creating a professional image of yourself but now I bet on putting all my efforts into improving my technique and creating new things from my time to be alone at my painting workshop.
"MANY PEOPLE WONDER IF THERE IS ONLY ONE PROFITABLE WAY TO GET A JOB AS A TATTOO ARTIST. FOR EXAMPLE, MANUAL WORK FOR BROADCASTING, FILM RECORDING, LECTURES, ETC."
I think that this depends directly on the kind of artist you are and the connection with your public: for some artists, it is about following their tattoos on the road so, a fresh lifestyle approach to their followers about their every day will easily keep their attention. For other artists, it is about their technique so maybe a youtube channel with some advice would have more engagement…of course, there is no guide on this, you have to find your public and make sure you connect with their aims…maybe the hardest part of our job.
"WHAT IS THE MOST INTERESTING PART OF YOUR ART ACTIVITIES? ALSO, IS THERE A WAY TO FIND INSPIRATION?"
Oh no, there is no magic formula! Creative people usually find it difficult to track the origin of their ideas, they just appear after hours of inconclusive hard work.
"THERE ARE QUITE A FEW PEOPLE WHO HAVE TO TEACH THEMSELVES FOR TATTOO ARTISTS BECAUSE THEY CAN'T AFFORD IT. PLEASE SAY A WORD OF SUPPORT FOR THEM."
Remember that there were no tattoo schools 20 years back so, we all were there once, and only those who did not leave are up here now.
"BEYOND THE LIMITS OF THE ARTIST, IT NOW LOOKS LIKE A BRAND. WHAT WAS THE MOST DIFFICULT PART OF GETTING TO YOUR CURRENT POSITION?"
Introducing innovation to the public: It happens that innovation, even when it is good or appealing, it is not accepted from the start. 
Humans tend to avoid changes even before analyzing if they approve it or not, so you really have to insist and repeat, over and over, and over again until they get used to "the new thing". 
Then, and only then, they will stop and think  "do I like this?" oh yes, maybe I do"
So keep doing.
" I THINK YOU MUST HAVE HAD SEVERAL SLUMPS WHILE WORKING SO FAR. IS THERE A WAY THAT THE ARTIST OVERCAME A SLUMP?"
When I look back, I personally think that the slumps I went through were the most productive times I had: you can improve the technique of your work the rest of the time but, nothing provides you with the creativity that the emotional rollercoaster of a slump offers you.
Embrace your crisis, my friend.
"LASTLY, IS THERE A FINAL DREAM THAT YOU WANT TO ACHIEVE AS A TATTOOIST OR PERSONALLY?"
I'd love my sons to follow in my steps and become tattoo artists….and move to Bali, that would be a blast.
Thank you very much for such a professional and sensitive questionnaire, I appreciate it a lot you took the time and interest to dive into my tattoo career 🙏 All my love to all the Kingpin readers.