Abel's own style.
Abel Miranda is the creator of a dynamic style, which is capable of mixing brush strokes and traces of paint that are spilled with geometric lines.

Their compositions usually cover large areas of the body and adapt to the anatomy of the person to be tattooed perfectly, reinforcing the natural lines of the body and creating new structures in it.
The designs of this incredible tattoo artist are created distilling the idea and the feelings of the person who will wear it, and are translated into the plastic language of Abel Miranda, in order to express in depth what the client feels, and make the most of the creativity of one of the artists who created the Avantgarde style.
In addition, the composition is built together on the skin of the person who will wear it so that both are part of the process.
Online seminars.
If you like the world of tattooing and want to learn from one of the best abstract art tattoo artist in the world, you have the opportunity to sign up for one of his seminars.
There are few seminars of the quality that Abel Miranda gives.

Don't think about it and learn from the best!
Avantgarde miranda.
A fusion of dotwork, psychedelic colors, geometry and abstract patterns are the essence that define Avantgarde Mirandaturning compositions into an explosion on the skin.
Reserve Your Tattoo With Abel Miranda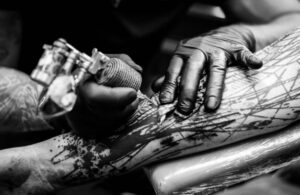 Conceiving the tattoo as an art is something that we all agree on today. It is a way of telling our story, a way of
Read More »